The U.S. Department of Defense said there are still concerns about North Korea's seventh nuclear test.
At a briefing on the 24th (local time), US Department of Defense spokesman Patrick Ryder said, "As we have heard before, we are concerned that North Korea is ready to conduct its seventh nuclear test."
South Korean and U.S. intelligence and military authorities have assessed that North Korea is ready to conduct its seventh nuclear test since last year. However, North Korea has yet to embark on an actual test.
A spokesman for Ryder said, "If North Korea actually conducts a nuclear test, it will be an act that will cause instability in the region" and "will continue to monitor this."
In addition, he added, "We will work closely with our partners and allies in the region to prepare for (the possibility of North Korea's nuclear test)."
Meanwhile, at the briefing that day, a question arose about whether South Korea would intervene if China invaded Taiwan.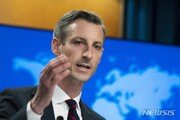 North American denuclearization negotiations
'North Korea human rights envoy appointed' US State Department "Human rights are the center of foreign policy"
US "Survey of North Korea's arms support to Russia's Wagner Group"… satellite image release
"Discussions on the redeployment of tactical nuclear weapons on the Korean Peninsula should begin," US think tank recommends
In an interview last year, President Yoon Seok-yeol said that if China attacks Taiwan, there is a high possibility of provocation by North Korea, and that the response to this is the top priority.
In response to a related question, a spokesperson for Ryder said, "We will not discuss the hypothetical situation regarding the possibility of China's invasion of Taiwan."
However, he emphasized, "In addition to approximately 30,000 USFK, we maintain various capabilities and various forces throughout the Indo-Pacific."
He also said that the role of the USFK is to work together with South Korea to protect and defend South Korea.
"We will continue to work closely with South Korea, Japan and other regional allies and partners to maintain a free and open Indo-Pacific," Ryder said.
[워싱턴=뉴시스]
Source: Donga