It is known that the U.S. and Germany will respectively support their main tanks, the M1 Abrams and the Leopard 2, to Ukraine, and the war in Ukraine, which is one year ahead of the outbreak of the war next month, is expected to face a watershed. The New York Times (NYT) of the United States evaluated the deployment of tanks as "a decision to open a new horizon (of war)." This is because the introduction of the two tanks could be a huge blow to Russia, which is planning a counterattack in the spring, and it is a milestone event that shows that the Western military support for Ukraine is shifting from defense to attack.
● "Western main battle tank support, a new frontier of war"
CNN reported on the 24th (local time) that the US administration of Joe Biden will announce plans to provide at least 30 M1 Abrams to Ukraine this week at the earliest. Russia's Rianovosti news agency reported that the U.S. would support up to 50 M1 Abrams, citing Turkey's state-run Anadolu news agency.
Regarding the change of the existing policy of the Biden administration's refusal to support tanks, it is interpreted that the intention is to have Germany as well as member states of the North Atlantic Treaty Organization (NATO) support the Leopard 2 that Ukraine wants. White House National Security Council (NSC) Strategic Communications Coordinator John Kirby told CNN on the same day, "Abrams is overwhelmingly superior in performance, but it is expensive to operate and maintain." "he said.
On the same day, there were also reports that Germany had decided to send its main battle tanks to Ukraine. Reuters reported, citing two sources, that German Chancellor Olaf Scholz had decided to send the Leopard 2 to Ukraine and allow Poland and other countries to support the tank. Germany's Der Spiegel reported that at least one company of A5 tanks (consisting of 14 tanks) of the Leopard 2 series would be supported.
The German government did not give an official response. However, German Defense Minister Boris Pistorius said at a joint press conference with NATO Secretary-General Jens Stoltenberg that day, "We expect that (whether or not to support the Leopard 2 tank) will be decided sooner or later."
● US shell production 6-fold in 2 years
Western countries have increased aid to Ukraine in recent weeks with heavy equipment, including armored vehicles and mortars. Analysts say that if the main tank is added to this, Ukraine will be able to secure the military power to break through the Russian military's defenses and recapture the area that was taken away.
The NYT said, "The main battle tank is the last remaining weapon that Western countries have been hesitant to support." Until now, only Britain announced on the 14th that it would provide Ukraine with 14 'Challenger 2', its main battle tank.
Ukrainian President Volodymyr Zelensky has been persistently requesting tank support from the West. On the same day, in a video speech at night, he said, "Discussions must be concluded with a decision," and "This is a measure that will substantially strengthen our defense against terrorists," and urged swift implementation.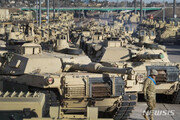 Russian invasion of Ukraine
US Abrams tanks may take years to deploy in Ukraine
"I was hit by a shell while trying to save my grandmother"… Two British volunteers killed in Ukraine
Pentagon increases ammunition production by 500% to support war in Ukraine
Meanwhile, the New York Times reported on the same day that the Pentagon decided to increase shell production sixfold over the next two years to support Ukraine, saying, "This is the largest production scale since the Korean War."
Russian Ambassador to the US Anatoly Antonov said, "If the US decides to provide tanks, it will not be able to justify such a move as providing defensive weapons."
Paris =

Washington =
Source: Donga