From March, it seems that you will have to pay an additional fee to share your Netflix account with your acquaintances.
In a shareholder letter released after the announcement of the fourth quarter of last year on the 20th (local time), Netflix said, "We will massively expand account sharing fees at the end of the first quarter."
The price is expected to be set at about $3 (about 3,700 won). Currently, the price of the sharing plan, which is being piloted in some South American countries such as Argentina, is $2.99 ​​(about 3,680 won) per person.
Netflix cited a decline in performance due to a decrease in the number of subscribers as the reason for the introduction. In the first quarter of last year, the number of paid service subscribers decreased by about 200,000 compared to the previous quarter. It was the news that the number of subscribers decreased for the first time in 11 years of establishment. As a result, the stock price plummeted by about 35% on the day of the quarterly earnings announcement.
Netflix estimates that more than 100 million subscribers share accounts with family and friends. Under the original terms and conditions, accounts can only be shared with members of the user's household. The purpose was to prevent infringement of personal information that could occur while sharing with third parties, such as friends, but it was not heavily regulated.
Then, in March of last year, the 'account sharing rate plan' was first launched. In some countries in South America, such as Chile, sharing an account with a third party who is not a household member costs $2 to $3 per person. It can be shared by up to two people, and it is divided into family members living together and third parties based on the IP address of the account holder and account activity.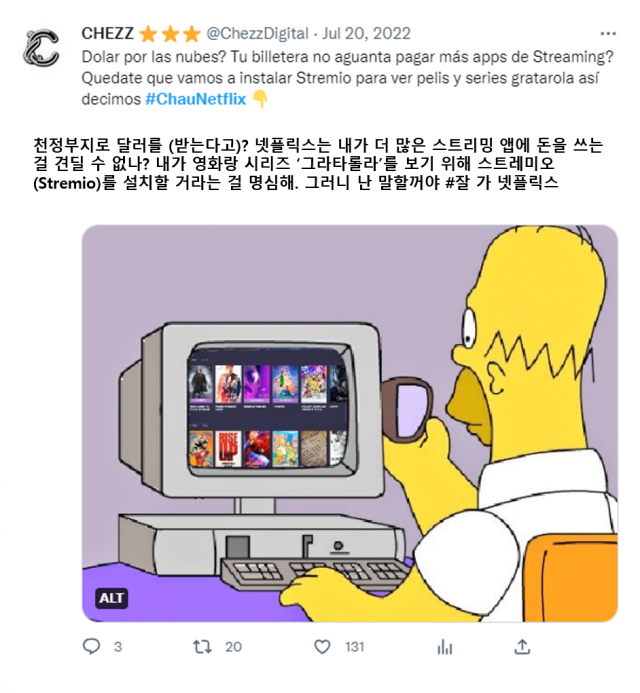 Twitter
There are also voices opposing the new policy. This means that losses are as much a concern as additional gains. In fact, when some countries in South America implemented a sharing plan, posts confirming subscription cancellation, such as 'Goodbye Netflix (ChauNetflix),' were posted on internet communities in each country.
In a shareholder letter, Netflix said, "As we observed in South America, some subscribers may cancel their subscriptions when account sharing is paid for. expected," he said.
Netflix's account-sharing plan, along with the advertising plan introduced last year, is expected to become a new source of revenue. The US Wall Street Journal (WSJ) said, "If account sharing is set at $3 per month (approximately KRW 3,700), additional revenue of $721 million (approximately KRW 890 billion) will be generated in the United States and Canada next year." reported that
Alicia Leeds and Michael Patcher, Wedbush US analysts, also predicted that the advertising plan would increase revenue by making up for user churn that would appear with the account-sharing plan. They predicted that Netflix would return to a growth rate of 17 million new subscribers per year.
Lee Ye-ji, Donga.com reporter [email protected]
Source: Donga