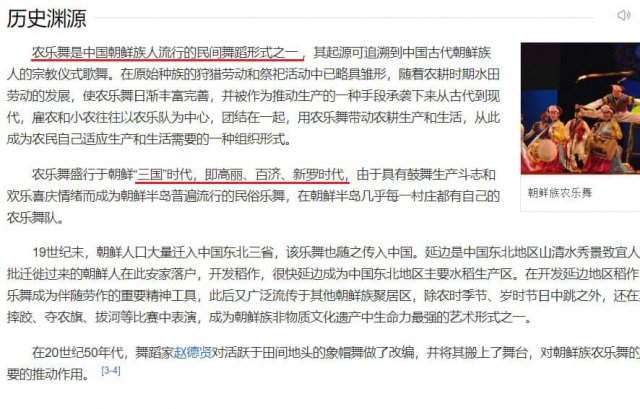 China's largest portal site 'Baidu' encyclopedia introduces 'Nongak', which is listed as a UNESCO World Heritage as a traditional Korean music, as one of the Korean ethnic folk dance forms in China, causing controversy.
On the 23rd, Sungshin Women's University professor Suh Gyeong-duk posted on his Facebook page, "'Nongak' is our own traditional music performed by farmers while farming. Nongak is a comprehensive art that includes various arts such as our traditional musical instruments, rhythms, nongsagut, and nongak dance, and some areas of nongak are registered as national intangible cultural assets. So, in 2014, Nongak was recognized for expressing the identity and universality of Koreans well, and was registered as a UNESCO Intangible Cultural Heritage of Humanity."
"However, Baidu Encyclopedia, China's largest portal site, claims that 'Nongakmu,' a part of our nongak, is 'one of the folk dance forms that were popular among Korean-Chinese people in China,'" he said. He pointed out that while referring to the era of the three kingdoms, they introduce the three kingdoms as 'Goryeo, Baekje, and Silla'."
"In 2008, the Chinese government registered our Nongak dance as the second national intangible cultural heritage of China under the name of 'Korean nongak dance' under the name of preserving the culture of minorities, and the following year, 'Chosunjok Nongak dance' was designated as UNESCO Intangible Culture of Humanity. "As such, China continues to perpetrate 'cultural invasion' to incorporate Korean traditional culture into Chinese culture under the pretext of 'an old culture of the Korean people', such as hanbok and kimchi, as well as nongak dance." added.
He also added, "Especially at the end of last year, when Korean mask dance was listed as a UNESCO Intangible Cultural Heritage of Humanity, the Chinese media distorted it as Chinese culture, publishing an article titled 'Rapidly rising to third place in the world as an intangible cultural heritage imitating Chinese culture'." he pinched.
Lastly, Professor Seo said, "Until now, we have been steadily responding to Baidu's distortions. When I distorted kimchi, I protested, so Baidu put a lock on it to prevent it from being edited at all. I guess this was the only thing I could do because there was no logical response." I will do it," he stressed.
Source: Donga
Mark Jones is a world traveler and journalist for News Rebeat. With a curious mind and a love of adventure, Mark brings a unique perspective to the latest global events and provides in-depth and thought-provoking coverage of the world at large.