Fans hold candles to commemorate the first anniversary of the death of actor and singer Kook-Young Chang in Hong Kong on April 1, 2004. 2004.04.01ⓒ AFP=News1
On April 1, 2003, singer and actor Zhang Guorong (Zhang Guo-ying) passed away like a lie. It was his April Fool's Day.
People didn't believe it at first. I thought it was an April Fool's joke. However, as soon as Jang Kook-young's death was confirmed as fact, Hong Kong and Asia were shocked. And again on the 1st, 20 years have passed since he left.
The South China Morning Post, a Hong Kong media outlet, reported on the 31st, "Even though 20 years have passed, Jang's legacy continues to inspire fans, creative people, and the queer community around the world." It says a lot about his lasting influence as an icon."
Jang Kook-young was born on September 12, 1956 in Hong Kong as the youngest of 10 children. He majored in textile and textile management at the University of Leeds in Northern England and returned to Hong Kong without graduating.
After returning to Korea in 1976, he sang American Pie at the ATV Asian Music Contest in Hong Kong, which happened to be held, and won second place, and this was the opportunity to make his debut.
He released 40 music albums and appeared in 56 films.
Regarding 'singer' Jang Kook-young, SCMP said, "He contributed to raising Cantonese pop to a new level in the 1980s and 90s and made hits in succession." There was also," he said.
In fact, Jang Kook-young is also famous for admiring Japan's legendary singer Momoe Yamaguchi. Jang Kook-young also paid homage to Momoe Yamaguchi's performance of putting her microphone on the floor at the time of her retirement performance.
Jang Kook-young, a singer and actor, is remembered as a representative actor who led the heyday of Hong Kong films in the 1980s and 1990s, along with Chow Run-fa (Chow Yun-fat) and Cheung Long (Jackie Chan). His representative works include 'Abi Jeongjeon', 'Dongsa West Germany', 'The White Haired Witch', 'Geumji Jade Yeop', 'Paewang Byeolhee', 'Chunkwang Editorial' and 'Happy Together'.
In 1986, Jang Kook-young raised awareness as a movie actor through 'Hero's Original Color' directed by Oh Wi-sun (Oh Woo-sam). In 1987, he emerged as a popular star in Asia after showing great 'chemistry' with Wang Zu-sen (Wang Jo-hyeon) in 'The Ghost of a Heavenly Woman'.
The late Hong Kong singer and actor Chang Kook-young ⓒ AFP=News1
◇Tacit coming out… Impact on LGBTI human rights


Jang Kook-young received praise for her excellent portrayal of feminine or queer characters in films in the 1990s.
Considering the situation in Hong Kong, which was conservative and non-heteronormative at the time, Jang Kook-young's character acting was unconventional. Although he is now widely recognized as an icon of queer fashion, his clothes and appearance on stage at the time were not always widely recognized by the public.
Guan Jin-feng (Gwan Geum-peng), a film director who has worked with Zhang, said, "I have vivid memories of seeing Jang Guo-young at a concert." .
"Jang Guk-young later commented on this incident and was quite sad," he recalled. "But at the same time, it motivated me to work harder to gain respect in the entertainment industry."
In fact, Jang Kook-young worked hard to win the love of the public. Throughout his career, he supported children, children, the elderly, and victims of the 1999 Taiwan earthquake.
He donated all proceeds from his 1989 album 'Salute' to the Hong Kong Institute of Performing Arts. After his death, his bereaved family established a scholarship society to support talented students and low-income students.
From 1989 to 1995, Jang Kook-young stopped performing as a singer. But that doesn't mean he has built a wall with music. In 1994, he sang 'Chu' (追), the theme song for the movie Golden Odyssey, and won awards at the Taiwan Gold Horse and Hong Kong Gold Awards.
Music producer Chu Chang-hei recalled that "he was involved in the film more than an actor," and that Jang Kook-young and the director would come into his recording studio and imagine how the scene would be filmed in advance.
In the 1997 film Happy Together, directed by Wong Kar-wai (Wong Kar-wai), Jang Kook-young stars as a same-sex Hong Kong couple who move to Buenos Aires for a fresh start with Liang Chao-wei (Lee Chao-wei).
In fact, Jang Kook-young did not directly reveal his sexual orientation, but when asked about his bisexuality, he said, "If someone likes me and I like that person, it doesn't matter if that person is a man or a woman." It would be appropriate to express it as," he said, so it is considered that he implicitly came out. However, there is also an opinion that she has not clearly stated about this.
In 2000 and 2001, Jang Kook-young appeared on stage wearing costumes by French designer Jean-Paul Gaultier. Through this costume, SCMP said, "We paid attention to the singer's bisexuality" and "It was a bold attempt to publicize his sexual identity along with his bisexuality."
Jerome Yu, vice president and CEO of the Pink Alliance, Hong Kong's leading non-profit LGBTQ organization, said, "Kook-Young Jang was a man ahead of his time.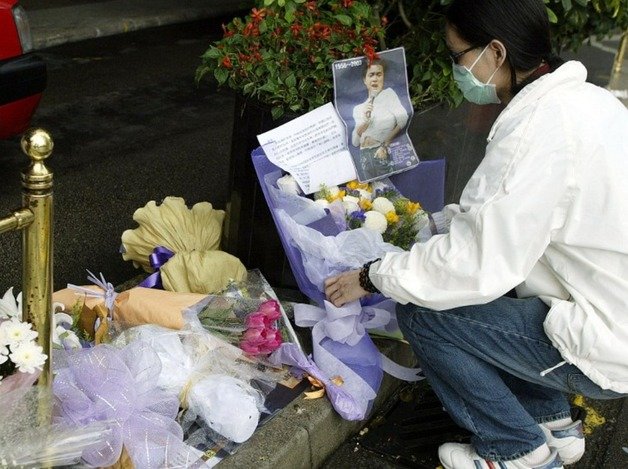 On April 2, 2003, the day after singer and actor Jang Kook-young's death, a fan leaves flowers and a message outside the Mandarin Hotel in the Central Business District.ⓒ AFP=News 1
◇The star of Asia who left like a lie… Changes in society's perception of mental illness
Meanwhile, on April 1, 2003, Jang Kook-young passed away due to an extreme choice on the 24th floor of the Mandarin Oriental Hotel in Hong Kong, where he stayed. At the time, SARS (Severe Acute Respiratory Syndrome) was spreading in Hong Kong, and it was also April Fool's Day, and many people did not believe the news of Jang Kook-young at first. Every year on April 1, long-time fans of Jang Kook-young lay flowers in front of the hotel.
SCMP said, "If Jang was alive, he would have been 67 years old. His death has had an impact on raising public awareness of the importance of mental health over the past 20 years."
According to Professor Paul Yip Siu-fai, director of the Hong Kong Jockey Club Center for Suicide Research and Prevention at the University of Hong Kong, in 2003, when Chang died, the local suicide rate was the highest at 18.6 per 100,000 population.
"Over the past 20 years, our society's view of mental illness has improved," he said.
Nevertheless, he emphasized the need for efforts at the social level, saying, "It is not a taboo as before, but support for depressed patients is still insufficient."
※ If you need help from an expert due to a problem that is difficult to talk about, such as depression, you can receive counseling 24 hours a day at the suicide prevention hotline at 1577-0199, the suicide prevention hotline at 1393, the hope hotline at 129, the life hotline at 1588-9191, and the youth hotline at 1388.
Source: Donga
Mark Jones is a world traveler and journalist for News Rebeat. With a curious mind and a love of adventure, Mark brings a unique perspective to the latest global events and provides in-depth and thought-provoking coverage of the world at large.