Foreign Affairs and Unification Committee plenary meeting
zoom in
Minister of Foreign Affairs Park Jin. 2023.5.24/News 1
Foreign Minister Park Jin announced on the 24th that he plans to meet with the newly appointed (Chinese) Foreign Minister Qin Gang soon after consultations between the two countries. Minister Park also hinted at activating channels between the National Security Council (NSC) of Korea and China.
Minister Park attended a plenary meeting of the National Assembly Foreign Affairs and Unification Committee on the 24th and said this in response to a query from Rep. Park Byeong-seok of the Democratic Party, who said, "There has been no high-level exchange since the third Chinese leadership took office." Regarding the criticism that there is no exchange between the heads of the security offices of the two countries, Minister Park replied, "It is expected that channels between (the two countries') NSCs, Chinese Politburo members and (our government's) State Councilors will be operational." Regarding the recent connection failure of Naver in China, he said, "We will solve the problem by communicating closely with China."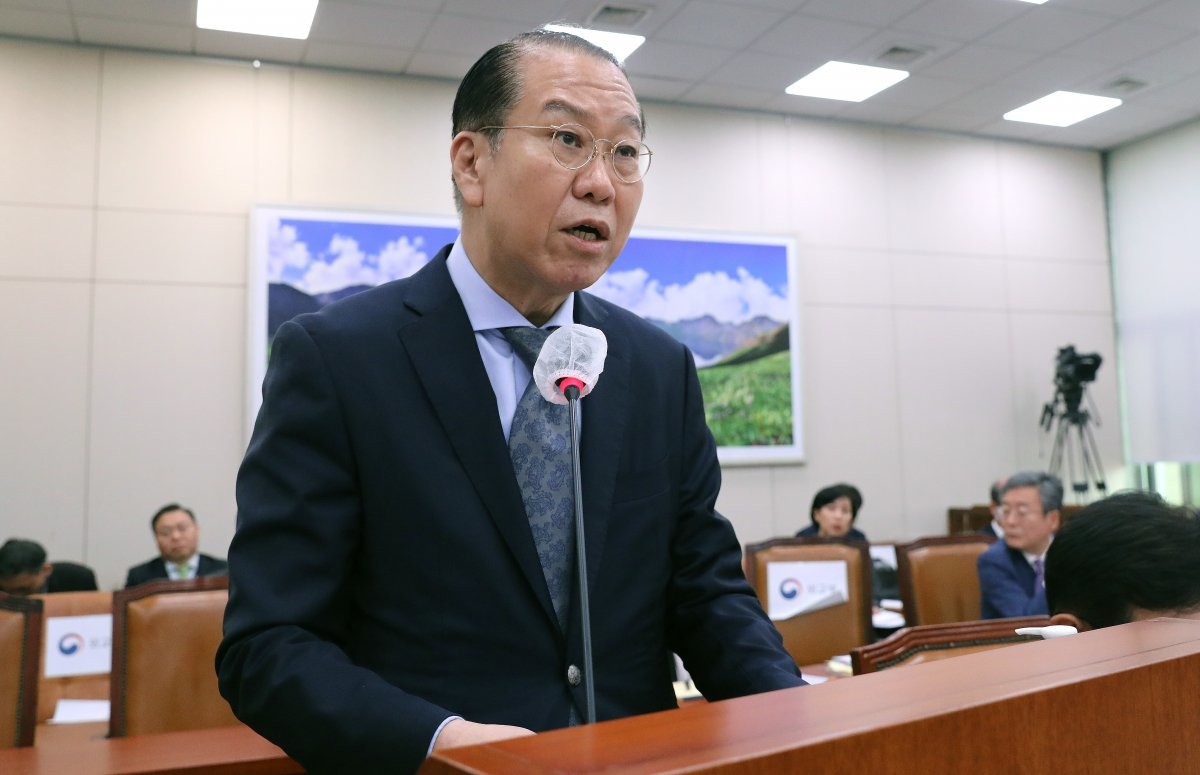 zoom in
Minister of Unification Kwon Young-se reports pending issues at the plenary meeting of the Foreign Affairs and Unification Committee held at the National Assembly in Yeouido, Seoul on the morning of the 24th. 2023.5.24/News 1
There was also mention of two North Korean families who recently crossed the Northern Limit Line (NLL) in the West Sea on a wooden boat and defected. Regarding the defection, Unification Minister Kwon Young-se said, "We believe that the loosening of (North Korea's) COVID-19 containment measures also played a part."
In particular, when it was pointed out that there could be an increase in the number of 'boat people' who defect from North Korea using small ships, he said, "It is necessary to prepare for all possibilities, and we are actually preparing."
At the foreign affairs committee that day, the opposition party intensively questioned the issue of inspecting and responding to contaminated water in Fukushima. Rep. Park Hong-geun of the Democratic Party said, "It is common sense and natural for the people to want strict safety standards," he said. Rep. Kim Gyeong-hyeop of the same party also argued, "(The government) is rather protecting or acknowledging the process Japan wants to go through, and the people are worried." On the other hand, Rep. Jin-seok Jeong, the power of the people, said, "The safety verification of the Fukushima contaminated water discharge plan is under the jurisdiction of the International Atomic Energy Agency (IAEA)." As people's anxiety is increasing, I hope the government's response to the media will be strengthened," he said.
Source: Donga
Mark Jones is a world traveler and journalist for News Rebeat. With a curious mind and a love of adventure, Mark brings a unique perspective to the latest global events and provides in-depth and thought-provoking coverage of the world at large.