Far-right Millay wins presidential election amid economic crisis
Trump: Make Argentina Great Again
Argentina's new far-right president: "Introduce the U.S. dollar and allow long-term trading" Argentine President-elect Javier Millais, a far-right economist, expressed his thoughts in a speech immediately after being elected on the 19th (local time) saying, "I will restore prosperity to Argentina." He argues that in order to overcome the current situation in which the left-wing government has been in power for a long time and economic difficulties have worsened, it is necessary to abolish central banks and national currencies, allow organ trading, and break away from the pro-China line. Attention is being paid to whether his victory will affect elections in neighboring countries, including the U.S. presidential election in November next year, beyond Latin America. Buenos Aires = AP Newsis
Javier Millais (53), leader of the Liberty Forward Party, a far-right economist known as 'Argentina's Trump', was elected on the 19th (local time), defeating the ruling leftist candidate in the Argentine presidential runoff election. The people, who have been suffering from severe economic difficulties such as high inflation rates in the 140% range and poverty rates in the 40% range, have entrusted power to an eccentric politician who appeared like a comet under the slogan of 'minimum government'.
On this day, President-elect Millais won 55.7% of the votes counted (99.3%), defeating the current Minister of Economy, Sergio Massa, the 'United for the Fatherland' candidate (44.3%). The dominant analysis is that the public has turned a blind eye to the ruling left, which has consistently pursued populist policies such as distributing cash.
In his election speech, Millais said, "Argentina's reconstruction has begun. "Now there will only be radical changes," he emphasized. During his presidential campaign, he made extreme liberal promises, including abolishing the central bank and the peso, introducing the U.S. dollar, reducing government departments, and allowing organ sales.
This result put a brake on the revival of the 'Pink Tide' (a wave of moderate leftists taking power), in which leftist leaders were elected one after another in major Latin American countries such as Brazil and Colombia last year. It could also affect national elections in 2024, which will be an 'election year' as 40 countries will hold presidential and general elections. Former President Donald Trump, who is currently running for the U.S. presidential election in November next year, posted on his social media site 'Truth Social', "You (President-elect Millais) will make Argentina great again!" He expressed his will to win by borrowing his own slogan, 'Make America Great Again'.
Argentine public angered by left-wing government's 'high prices and poverty' elects far-right president
'Argentine Trump' Millay wins presidential election
Voters are tired of incompetent politics from the left and right… Vote for change flocks to 'far-right freaks'
Vice President-elect 'denies dictatorship' burden… Watch for impact on next year's US presidential election
Argentine President-elect Javier Millais (left) is enjoying the joy of holding hands with his younger sister Carina, who accompanied him throughout the election campaign, immediately after confirming his victory in the presidential election on the 19th (local time). President-elect Millay, who is single and has a special relationship with his sister, said, "Her sister will serve as the president's spouse after she takes office." Buenos Aires = AP Newsis
Long hair that has never been combed, a unique campaign style like swinging a chainsaw, extreme remarks like "Argentine pesos are excrement"… .
Javier Millais (53), a former panelist on a broadcast debate program and a 'far-right geek' whose entire political career includes two years of legislative activity, will lead Argentina, South America's second-largest economy after Brazil, for four years. This is because the public sentiment in Argentina, the home of left-wing populism (Peronism), including cash welfare, chose an 'outsider' who completely rejects the existing political grammar as president.
President-elect Millay's victory is interpreted as the result of judgment based on the worst economic difficulties, including high inflation of 140% and poverty rate of 40%. Voters who were tired of the incompetence of established politics, not only the ruling left but also the right-wing opposition party, voted for him because they believed that change would be impossible without him, who consistently speaks and acts so radically that he is called a 'madman.' This result is likely to have a significant impact on the presidential and general elections held in major countries in North America and Central and South America next year, including the United States and Mexico.
● 'Madman' President and 'Witch' Vice President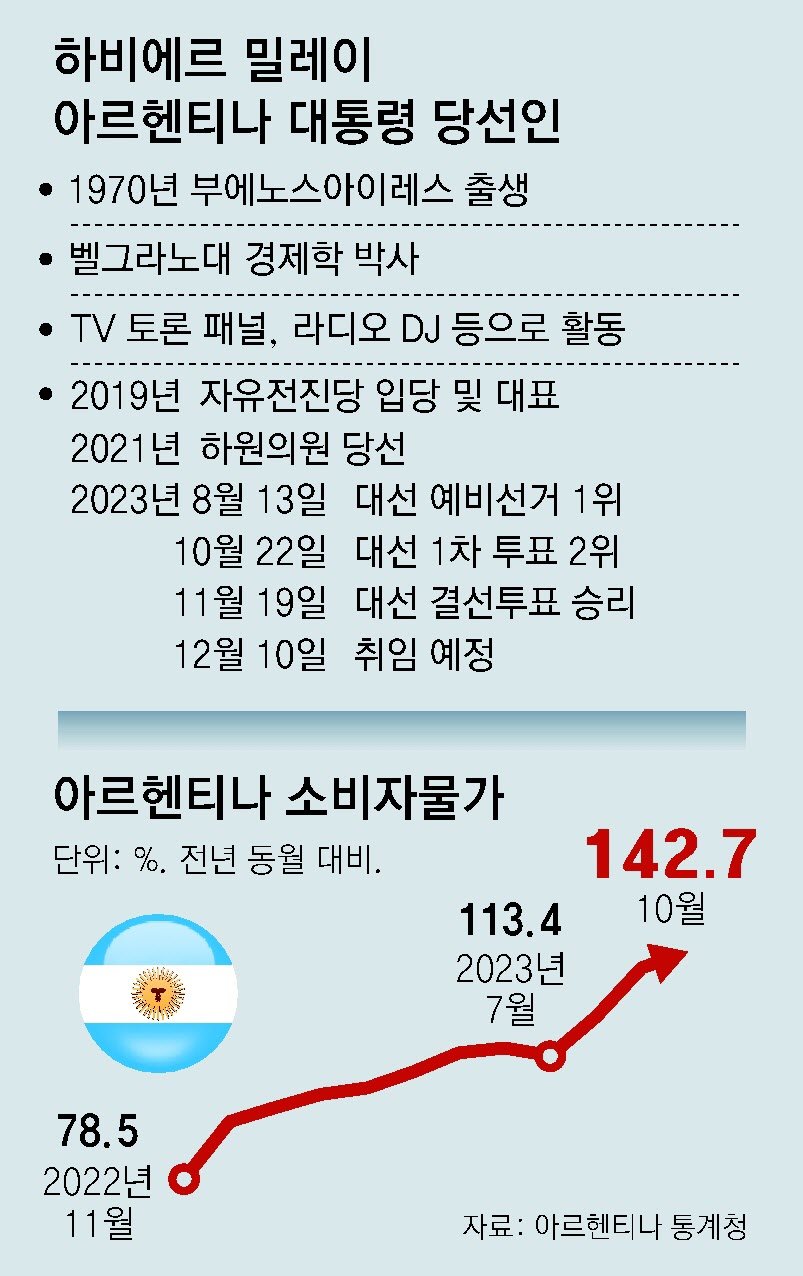 President-elect Millais was born in Buenos Aires, the capital, in 1970 as a descendant of Italian immigrants. He earned a doctorate in economics from the University of Belgrano and worked as an economic analyst. He became popular on TV and radio for his 'blasphemy-all' commentary criticizing both the left and the right.
His political career is endless. In 2019, he joined the Freedom Forward Party and was elected to the House of Representatives in 2021. He gained popularity at the level of a pop star by advocating radical changes such as ending free healthcare and education, reducing government departments, easing gun regulations, and allowing organ sales. He brandished his electric chainsaw at a campaign rally, saying he would cut down all welfare policies. He also preached his pledge through social media platforms such as TikTok and Instagram, which are favored by young people under the age of 29, which accounts for about a third of all voters. His TikTok followers total about 1.4 million. Economy Minister Sergio Massa of the ruling left, who faced him in the runoff, has only 40,000 votes.
It is known that there are almost no people who can be called close associates. He considered his dog Conan, who died in 2017, like his own child, and later spent $50,000 (about 65 million won) to create four cloned dogs. They are called 'Robert, Lucas, Milton (Friedman), and Murray (Rothbard)', respectively, after the names of scholars who advocated a market economy and small government. He is not married and is in an open relationship with comedian Fatima Flores (42). His younger sister Karina, 50, who has been deeply involved in the election campaign since he took office, is expected to serve as the president's spouse.
Vice President-elect Victoria Villarruel (48), who said she would take charge of the defense sector after taking office, is also the subject of controversy. Both his father and uncle came from military families who served under the military dictatorship. She is called a 'witch' by ​​her opponents for her comments denying her dictatorship, such as saying, "She exaggerated the number of missing people during the military regime."
● The credit for winning the election was economic difficulties such as high inflation in the 140% range.
Vice President-elect Villarruel
President-elect Millay's victory is proof of how serious Argentina's economic difficulties are. Consumer prices in October rose 142.7% compared to the same month last year. This year's overall inflation rate is also expected to be 190% higher than last year. This means that after sleeping, prices rise and the value of currency falls. Of the 47 million people, 40% are poor.
Argentina was a wealthy country in the 19th century, but its economy was ruined in the 1940s and 1950s with the emergence of former President Juan Peron, a leftist leader, and the generalization of cash distribution policies, such as free welfare, by leaders claiming to be Peron's successors. As the economic situation did not improve even when a right-wing government other than the Peron-affiliated party took power, distrust of established politics and political indifference deepened.
In the end, the people had no choice but to be attracted to him, who advocated extreme liberal economic policies. One supporter told Reuters the reason for his support was, "Millais was the only viable option." The U.S. CNN broadcast analyzed, "Millay's victory will send a potential signal to the world that far-right populism can be revived."
Source: Donga
Mark Jones is a world traveler and journalist for News Rebeat. With a curious mind and a love of adventure, Mark brings a unique perspective to the latest global events and provides in-depth and thought-provoking coverage of the world at large.