British journalist Benjamin Hall, Fox News's correspondent on the war in Ukraine, spoke for the first time about the extent and severity of his injuries after being shot in the Russian attack on Kiev about a month ago.
On March 15, the reporter and two other colleagues, cameraman Pierre Zakrzewski and stabilizer Ukrainian Oleksandra Kuvshinova, Shot down by Russian troops. Zakrzewski and Kuvshinova died, Hall was hospitalized in serious condition.
"To sum up, I lost half my leg on one side and one foot on the other," the journalist wrote on Twitter, posting a photo of him wearing a bandage and eye patch. He also injured his hand and is unable to see in one eye and part of his hearing.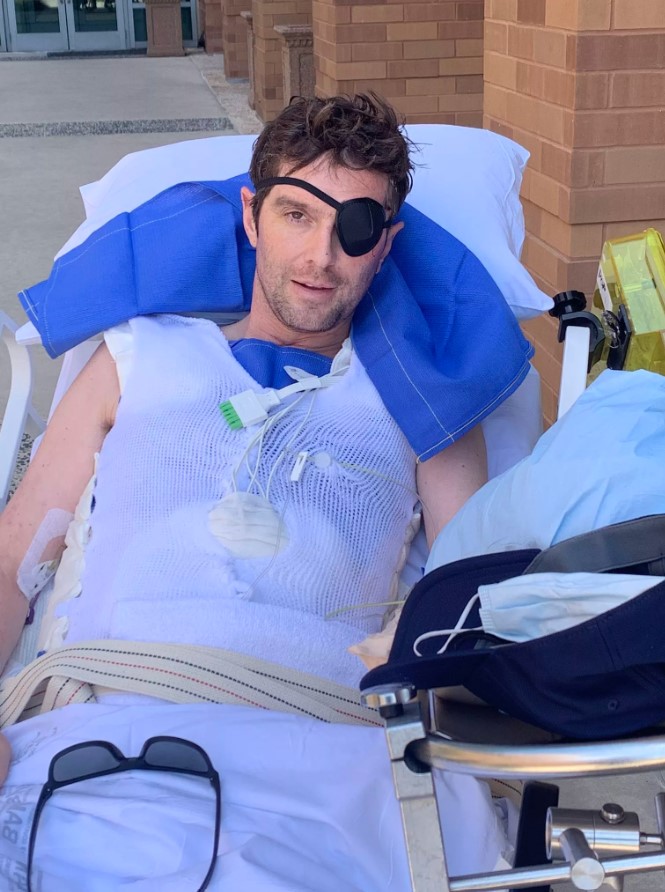 Fox journalist defends Russia in Ukraine as Hall recovers
As the journalist struggles to recover from the injuries sustained by the sequelae that will accompany him for the rest of his life, the station he works for continues to staff one of the most controversial American journalists, who came to criticize his credibility last week. media coverage of the war in Ukraine.
Tucker Carlson, a far-right commentator, became a first-time Donald Trump supporter and established himself as a spreader of disinformation and fake news during Covid-19.
read more

"I try not to lie on TV," says Fox News star and Trump "guru" Tucker Carlson.
He openly sided with Vladimir Putin in the Ukraine war. A few days before the invasion, he asked the audience of the evening program "why should Americans hate Putin".
Carlson has received much criticism for his efforts to promote pro-Kremlin talking points and disinformation about the situation in Ukraine.
His comments are used by Russian state media to "support" Putin's narrative from a Western "prejudice", even the subject of an email sent by the government to broadcasters recommending reproductions of excerpts from his speeches.
Last Thursday (7), it caused outrage again. After admitting that Russian soldiers had "committed atrocities", he returned to attacking media coverage of the war.
"Some of these atrocities," he said, "have to be real," he said, "but we can also be absolutely sure that, despite what we've been told, war is not a children's tale of good versus evil."
Journalists in Ukraine fall victim to Russian attacks
Journalists covering the conflict certainly disagreed. So far, seven media workers have lost their lives in Ukraine, and some have gone missing after being captured by the Russian military.
Unlike in other wars, deaths and injuries of journalists in Ukraine were the direct result of attacks, several car cases were ambushed and shot down even though they were clearly described as "Press".
Such was the case with the attack that took the lives of cameraman Pierre Zakrzewski and producer Oleksandra Kuvshynova and maimed Benjamin Hall.
read more

Fox News cameraman, producer killed, reporter injured in Ukraine attack
Speaking for the first time about the case at the hospital he is recovering from, Hall held a moment of silence for two of his colleagues who lost their lives in the attack that took place during the war broadcasts in Ukraine.
"It's been more than three weeks […] and I wanted to start sharing everything. But first I must pay tribute to my failed colleagues Pierre and Sasha. [sobreviver] that day," wrote the British journalist.
"Pierre and I traveled the world together, his joy was working and his joy was contagious. Rest in peace."
Zakrzewski was a senior war cameraman for Fox News covering a variety of conflicts, including Iraq, Afghanistan and Syria. Based in London, it has been in Ukraine since February.
Ukrainian journalist Oleksandra Kuvshynova stabilizer for the team, he was helping two professionals from the US broadcaster traverse Kyiv and its surroundings while gathering information and talking to sources.
read it too

TikTok exposes fake news spread by Russia about the war in Ukraine to new users within minutes, study reveals
Hall works in Washington and runs the US State Department for Fox News, where he has been since 2015.
He has worked for global media such as The New York Times, The Times, Agence France Press and the BBC and has extensive experience in conflict reporting. That's why he was sent to cover up the Russian invasion of neighboring regions.
The journalist said he felt "very lucky" to have survived the Russian army's attack on Ukraine.
"One hand is being treated, one eye is no longer functioning, and my hearing is severely damaged…but all in all, I feel so lucky to be here – the people who brought me here are incredible."
After the photo echoed and information about his injuries, the journalist deleted the Twitter post without comment.
Days after the Benjamin Hall trial, the laureate documentary filmmaker Brent RenaudHe was killed in Ukraine from the USA.
Other Fox journalists discuss media in Ukraine
Tucker Carlson is not alone on Fox News in criticizing the media about the war in Ukraine. Shortly before the attack, the host of the political show The Five angrily reacted to Greg Gutfield's comment.
On air, Gutfield said the news in Ukraine is "very similar to other stories in the digital age, where the footage is captured and then replayed over and over to create some kind of emotional reaction in you, because it makes a profit for the news companies."
"This isn't the media trying to garner an emotional response, that's what's happening," Benjamin Hall said.
"This is an absolute disaster," he added. "And the ones who really suffer are the people on the field."
Russia's Conspiracy Theories About Ukraine With Fox's Help
Russia has succeeded in exporting an old conspiracy theory that has been spreading in the country: the United States has secret "biological weapons".
This baseless thesis reached the QAnon group and was reinforced by Fox News journalists, including Tucker Carlson himself.
Last weekend, the Fox anchor was the target of a protest outside a church where he held a live event in San Diego, California.
Protesters carried banners and Ukrainian flags and banners criticizing the journalist for his pro-Russian statements.
Read it too.
source: Noticias