An American college ice hockey player pushes a wheelchair down the stairs. (Twitter capture)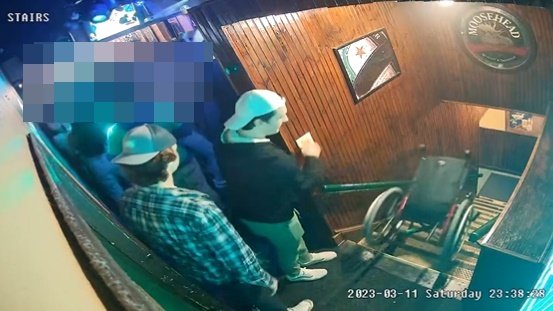 Closed circuit (CC) TV scene filmed on the 11th. (Twitter capture)
A video of an ice hockey player at a university in the United States pushing a disabled wheelchair down the stairs is being criticized.
On the 20th (local time), the US local media, including CNN, reported that Mercyhurst University ice hockey team player and third-year student Carson Breer pushed a wheelchair from the stairs on the second floor of a bar in Pennsylvania on the 11th. A TV video was released.
The video shows Brier sitting in her wheelchair for a while, getting up, making eye contact with her friend, and pushing her away. The wheelchair is said to have been parked by a woman to go to the bathroom.
Since this video was released on the 14th, it has spread enough to exceed 13 million views in a week. The netizen who released the video was angry, saying, "I don't usually post serious posts on Twitter, but I have to tell you what happened on Saturday."
Since then, the controversy has intensified as the father of Breer, a player in the video, was revealed to be Daniel Breer, an ice hockey player who played in the North American Ice Hockey League (NHL).
Daniel Brier said in a statement that he was "shocked" by his son's actions and "can never forgive him." This is completely against our family values ​​of 'respect'." He said, "I will make my son responsible for this."
The university and its team also expressed their apology through a statement. Mercyhurst University said Breer had sent a statement saying there was "no excuse for my careless behavior." He continued, "Brier's behavior in the video harms the unique dignity of each person," but appealed to "give the student who made the wrong choice a chance to atone." The team also notified Brier and the other players in the video of the temporary ban.
Still, the controversy persists. Netizens are pouring out criticism towards Brier and demanding a more sincere apology.
Source: Donga
Mark Jones is a world traveler and journalist for News Rebeat. With a curious mind and a love of adventure, Mark brings a unique perspective to the latest global events and provides in-depth and thought-provoking coverage of the world at large.