A light plane lands on the roof of a Dubai hotel. Captured from Twitter @TansuYegen
The world's first light aircraft successfully landed on the helipad built on the roof of a 56th-floor hotel.
According to CNN and the UAE The National, on the 14th (local time), a light plane piloted by Polish aerobatic Luk Chefiella (39) is located on the roof of the Burj Al Arab Jumeirah Hotel, a landmark in Dubai, the capital of the United Arab Emirates (UAE). has landed
The heliport where the light aircraft landed was 27 meters wide, the size of a tennis court.
Aviator Chefiella is said to have practiced 650 landings over the past two years with the goal of landing the plane on the roof of a hotel.
Chafiella produced a light aircraft for stunts with reduced body weight with the support of Cup Crafter, an American light aircraft developer and manufacturer. Typically, light aircraft need a landing distance of at least 30 to 40 meters.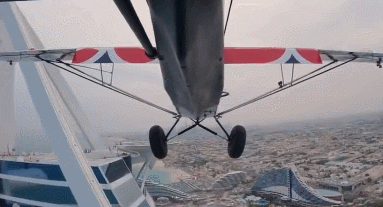 A light plane landing on the roof of a Dubai hotel. @JoePomgliano Twitter capture

The aircraft built for Chepiela could theoretically land on a 27m wide heliport by reducing the braking distance to 21m. However, there was no light on the airport runway to help aircraft take off and land on the roof of the hotel, so it was expected that it would be very difficult to land.
"It wasn't easy to land from 200 meters high," Chepiela said in an interview with a foreign media outlet. "I had to completely trust my flying skills."
"The difficulty of this flight was 11 out of 10," he said. "It is an honor to be part of the history of Dubai hotels."
Chafiella decided to become an aviator at the age of six when she followed her father to her first air show. He said that he did odd jobs such as cleaning planes at the airfield and hauling planes out of hangars, and in return boarded the plane with the pilots. He saved up his pocket money, got his flying license, and succeeded in becoming a professional aviator.
Source: Donga
Mark Jones is a world traveler and journalist for News Rebeat. With a curious mind and a love of adventure, Mark brings a unique perspective to the latest global events and provides in-depth and thought-provoking coverage of the world at large.