US presidential candidate Florida Governor Ron Disantis (Republican Party)
Called 'Little Trump' as a competitor
Media "Big Mouse Musk will be strong"
Anti-immigrant-anti-abortion conservatives
Tesla CEO Elon Musk (CEO, photo), who was asked on Twitter in June of last year, "(In the next US presidential election) who is your heart leaning toward," said. "Disantis."
Florida Governor Ron Disantis (45) officially declares his candidacy for the 2024 presidential election by talking to Musk on the Twitter voice conversation platform 'Twitter Space' at 6 pm on the 24th. US NBC Broadcasting reported that Musk, the "Big Mouse" with 140 million followers, would add great strength. It is also interesting that Governor Disantis, former President Donald Trump's strongest rival in the Republican Party, who actively used Twitter rather than the traditional media throughout the 2016 presidential election and tenure, announced his run for president on Twitter.
In 2018, then-President Trump officially endorsed Disantis for the first time running for governor of Florida. After that, he was nicknamed 'Little Trump', and over time, he was called 'Trump with a brain'. Now, only a fight with former President Trump, who was once a mentor, remains.
● Adherence to the value of conservatism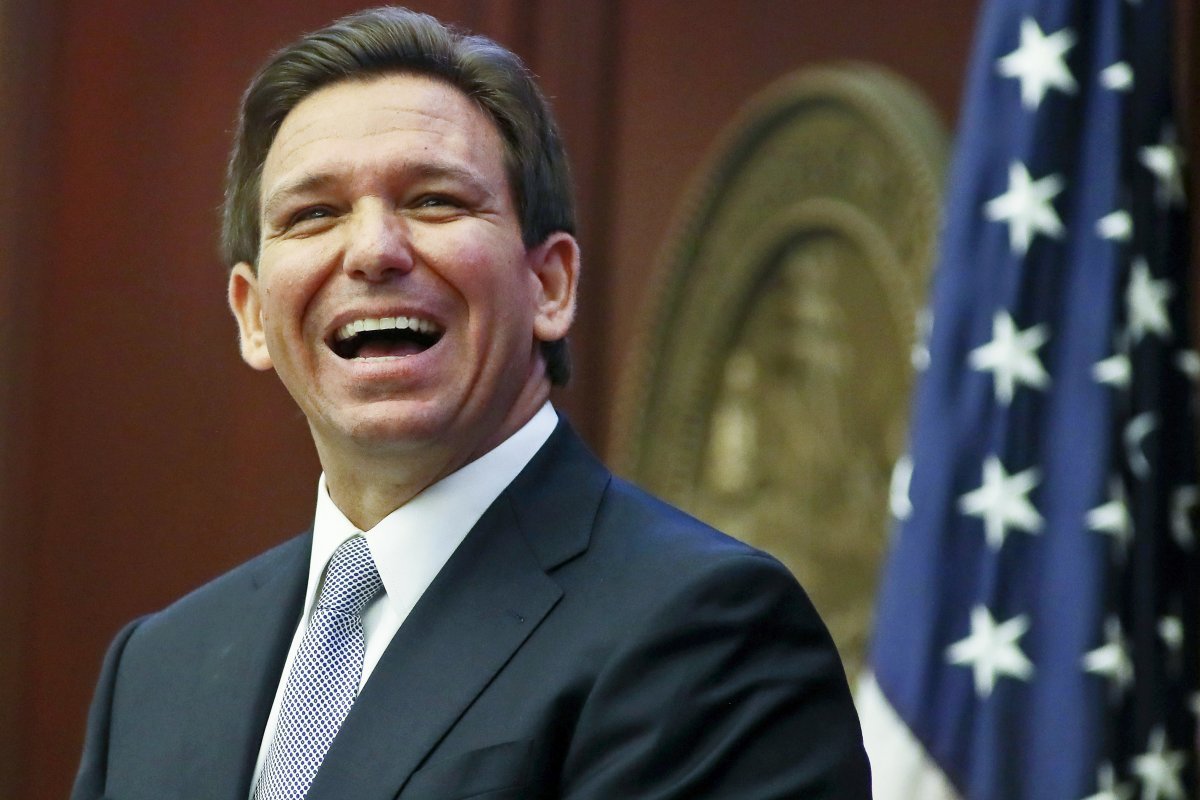 "I will not run the government like a 'daily drama'."
Governor DeSantis said this on social media in October of last year. Unlike former President Trump, who constantly made provocative remarks and actions, he means that he will implement predictable and reasonable policies. The foundations of his rational policy are liberalism and conservatism. He is a staunch advocate of anti-immigration, anti-abortion and tax cuts.
He attracted the attention of the national media and Republican voters in January 2021, when the novel coronavirus infection (Corona 19) pandemic was in full swing, and the Joe Biden administration objected to the mandatory mask wearing and vaccination and adherence to the lockdown policy. . Putting freedom ahead of quarantine, he lifted quarantine measures one after another by state law, saying, "The government restricts individual freedom." According to his personality, "If there is an 85-page document and a 2-page summary, I read the document unconditionally" .
For the past year or so, it has been fighting a culture war with the media giant Disney over issues related to 'political correctness', trying to win the hearts of conservatives.
Disney, which operates the theme park 'Disney World' in Orlando, Florida, protested against the Florida state legislature in March of last year, saying, "Abolish the law" when it passed a bill banning sexual identity education such as homosexuality for elementary school students under the 3rd grade. When Disantis said it would abolish a state law that granted tax benefits to Disney World from 1967, Disney countered last month as "political retaliation," and it spread to a lawsuit between the two sides. On the 18th of this month, Disney pressed to "cancel the plan to build a new Florida building worth $1 billion (approximately 1.3 trillion won)." 2000 new jobs were lost.
However, Governor Disantis does not give up his conservative beliefs, such as announcing on the 22nd that if he becomes president, he will succeed in re-election and replace the current 6 conservative and 3 progressive federal justices with 7 conservative and 2 progressive judges.
● Graduated from a prestigious university and participated in the Iraq War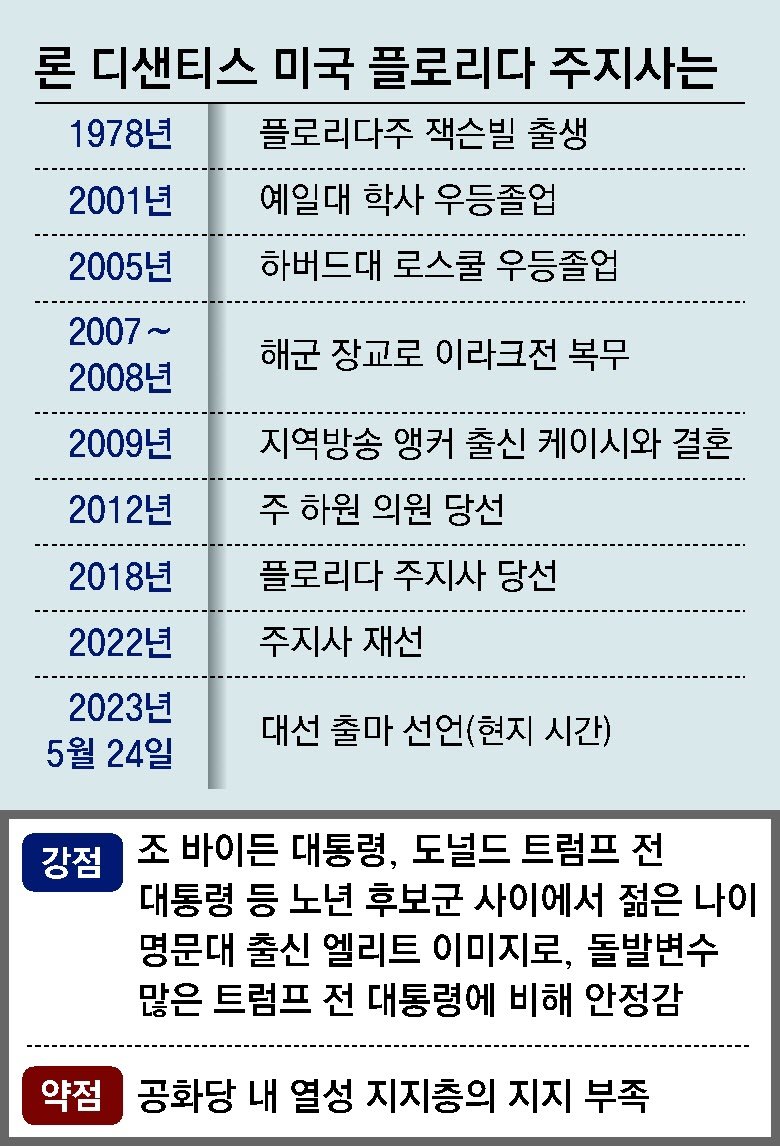 Gov. DeSantis was born in Jacksonville, Florida, in 1978 to a middle-class family of Italian immigrant descent. His father attended Nielsen, a ratings agency, and his mother was a nurse. He majored in history at Yale University, graduated with honors, and went to Harvard Law School. He is a Catholic who joined the Navy as a judicial officer and served in the Iraq War and was also awarded the Medal for Military Merit.
He was elected to the Florida House of Representatives in 2012 and served a third term before becoming governor in 2018. In the midterm elections in November of last year, he succeeded in re-election despite criticism from former President Trump, solidifying his position as a presidential candidate. He is a member of the Freedom Caucus, a hard-line Republican group.
He married his wife Casey (43), a former local TV anchor, in 2009 and has three children. Casey, who was looking at a basket full of golf balls at a golf course when she was a naval officer, mistakenly thought she was looking at her, so it was her fate that she first talked to her.
He is an elite graduate from a prestigious university, and his history and experience of fighting for the country are enough to attract the attention of conservatives. In particular, between the aged President Biden and former President Trump, youth is evaluated as a weapon. However, it is pointed out that he lacks the charisma that captivates the enthusiastic supporters and the public. Until the beginning of this year, he had the highest approval rating among Republican presidential candidates. However, after former President Trump's criminal prosecution in March, he is currently lagging behind him by around 30 percentage points due to the phenomenon of 'conservative gathering'.
US midterm elections
Source: Donga
Mark Jones is a world traveler and journalist for News Rebeat. With a curious mind and a love of adventure, Mark brings a unique perspective to the latest global events and provides in-depth and thought-provoking coverage of the world at large.